Hello there!
COMING UP:  I will be appearing with my old theatre company in the world premiere of The Promise of a Rose Garden by Dustin Spence. See their website at Babes With Blades Theatre Company for details about the show!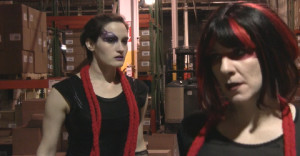 The web series The Scarlet Line has wrapped production for its 'final' season in its current incarnation! Meaning?
We're finishing up the current storyline in a fashion that would allow for future installments, but not require them to feel like the story had a whole arc.  If we decide to produce more in future, it will be with expanded production capacity.
This past year, I was lucky enough to be in 20,000 Leagues Under the Sea at Strawdog Theatre Company, in the role of Captain Nemo! I also had the opportunity to read the role of Hannibal Lecter in a stage adaptation of Red Dragon, and appeared in several other readings around town. Prior to that, I appeared in Stage Left Theatre Company's production of Keys of the Kingdom, by Penny Penniston – click the titles for info.
Season 1 of the web series The Scarlet Line is up.  Shot in fall 2012, with season 2 shot in fall 2013, and currently in post-production!
I am also happy to announce that the second season of Dark Age is live! Dark Age: The Web Series  aired its first episode Feb 2, 2012.  I round out an ensemble of 5.  They have set up a whole youtube channel, and you can view Season 1 – Feature Length or Season Two – Feature Length to watch each season as a whole movie in one sitting, if you like!
The Bartitsu documentary is available on DVD.  Click here!  I did some voiceover and appeared on camera in a reenactment sequence depicting the jujitsuffragettes training.  Stay tuned for more news and info!